FURTHER MATHEMATICS (EDX)
A2 Course Outline
What is Further Mathematics?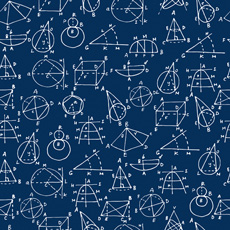 Mathematics is a system arising from the need to classify and quantify the world. From simplistic counting systems, mathematics has extended to encompass such esoteric ideas as multidimensional space and complex numbers. Mathematics provides a remarkable tool for describing and understanding our reality. It is of vital importance in the sciences, social sciences and financial world.
Pure mathematics lends heavily to philosophy, whilst providing techniques for all applied theories. Calculus allows us to predict rates of change in many circumstances and thereby predict problems of the future. Statistics helps us to understand circumstances as diverse as variation in biology and the stock market. Mechanics enables us to build skyscrapers, bridges and ever more advanced transportation. Decision mathematics introduces the techniques that allow for optimal efficiency and excellent planning in a wide variety of contexts and situations, providing excellent management and leadership skills.
What Skills Will Students Develop When Studying Further Mathematics?
Further mathematics is a challenging, rewarding and mentally stimulating activity and enjoyable in its own right. It vastly extends the student's depth and breadth of knowledge. It is an excellent preparation for degree level courses in the sciences, social sciences, economics, business, computing and indeed mathematics. In some of the top institutions, additional lecture courses are necessary to support to those who have not completed further mathematics A-level.
Techniques for rigorous modelling and consideration of limitations are introduced. A wide range of methods for gaining and improving approximate answers are covered. Students are introduced to the imaginary number system, which uses the square roots of negative numbers and is essential in a good understanding the world of particles. Students are introduced to matrix algebra with its uses in programming and spatial reasoning, as well in understanding special and general relativity. Differential Equations useful for modelling so many situations in nature, science, and finance are covered.
In the three or four applied modules, the student will have the opportunity to see in much greater depth or breadth the uses of mathematics in the real world and in modelling these situations. Further mathematics is a highly challenging, but incredibly rewarding and hugely respected A-level.
Further Mathematics (EDX) A2 Specification

Each unit has a 1½ hour exam with 75 marks and is equally weighted toward the A-level.

Unit 1
16.67% of Further Mathematics

Further Mathematics 1 (FP1):

Series, complex numbers, numerical solutions of equations, co-ordinate systems, matrix algebra, proof.

Unit 2
16.67% of Further Mathematics

Further Mathematics 2 (FP2):
Inequalities, series, first & second order differential equations, further complex numbers, Maclaurin and Taylor Series.

Units 3 to 6
16.67% of Further Mathematics per module.

Mechanics M1, M2, M3, M4, M5
The study of forces and motion, building up from Newton's laws in one dimension with a constant force to more dimensions, variable forces and composite bodies.

Statistics S1, S2, S3, S4
Starting from the analysis and representation of data, statistics moves towards testing the truth of claims and quantitatively considering bias and the efficiency of methods.

Decision Mathematics D1, D2
Looks to optimise systems, finding the most efficient and suitable method for completing a variety of tasks.

Further Mathematics 3, FP3
Further matrix algebra, vectors, hyperbolic functions, differentiation, integration, further co-ordinate systems.
Structure of the Course
The course will be taught for six lessons per week, as three 1½ hour double lessons. Homework is set at the end of each session and deadlines for admissions must be met. A full set of notes and examination questions is provided.
Recommended Texts
Heinemann Modular Mathematics for Edexcel Various Authors