BUSINESS (AQA)
A Level Course Outline
Why study Business at A-Level?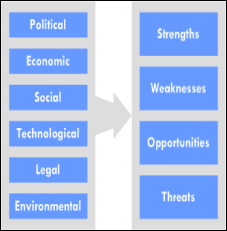 If you have a passion for Business and you are interested in the stock exchange or new business ventures this is the course for you. You will gain the skills to analyse real life case studies for companies such as Amazon, Apple, Rolls Royce and Tesco. Business studies will also equip you with the skills to analyse key financial data to help business decision making. Overall you will develop essential skills required to run a business such as in Business Management, Accounting and Finance, Marketing and Human Resource Management.
What is Business at A-Level?
A-level Business considers strategies for larger businesses and how managers might measure the performance of a business. It starts with a comparison of the objectives of the company as a whole and distinguishes them from the objectives of each department. The A- Level syllabus also equips you with skills to analyse financial information and external influences on a business.
Main Topics Covered
What is business
Leadership & management
Marketing & market data
Human Resource Management
Finance & business maths
Operations & manufacturing
Business strategy
Political environment
Economic environment
Social factors
Ethical & environmental factors
Legal factors
Business culture
How to deal with change within a business

The Business course helps you to develop a number of skills:
How to think of a business idea
Research skills
Business calculation skills
How to assemble data and assess it
How to analyse companies' strategies and tactics
Problem solving skills in relation to companies performance and strategy
Knowledge of business models and the business environment
Essay writing skills & presenting an evaluated argument

What are the challenging aspects of the course?
A-level Business contains a significant amount of business content, which can be over-whelming. Therefore attending all lessons and being organised are essential skills.
There will be a big emphasis on business maths, including calculating profit, financial ratios, interpreting and reading income statements and balance sheets, just to name a few. Therefore regular practice and being numerical is imperative to success.
A key performance measurement on the course is effective essay writing, which will be assessed on a weekly basis. Essay writing will require careful planning, analytical thinking and evaluative judgement skills.
BUSINESS (AQA) A-Level Specification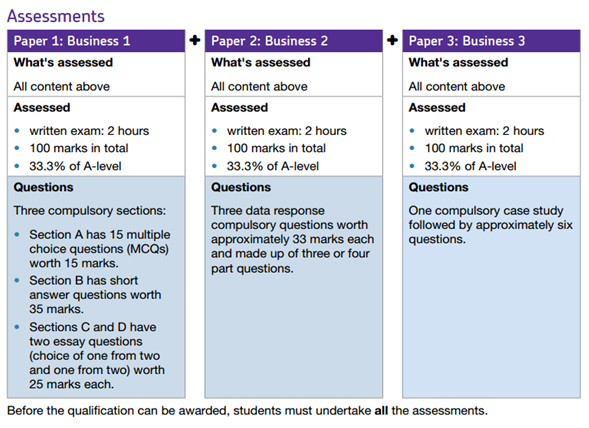 Note: Assessment is 100% examinations based, therefore there is no course work.
Structure of the Course
This course will be taught for 6 x 1hour lessons per week. Independent study is set each week and deadlines must be adhered to. The course will involve additional reading, so please be prepared for this.
Core Textbook
Surridge M; Gillespie A, AQA A-level business, Hodder education, 2019. ISBN-10: 1510453342.
Further Reading
Wolinski J; Coates G. "AQA A-level Business 1 Third Edition", Hodder education, 2015. ISBN-10: 1471836096.
Marcousé I; Hammond A; Watson N. "Business Studies for A-level", Hodder education, 2015. ISBN-10: 1471835693.
Porter M. "Competitive Strategy: Techniques for Analysing Industries and Competitors", Free press, 2004. ISBN-10: 9780743260886.