ENGLISH LITERATURE (AQA LIT B)
A-Level Course Outline
Who Should Study English Literature?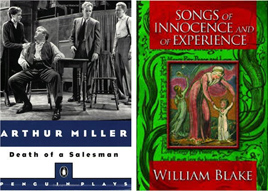 Anybody hoping to study English at A-level must enjoy reading books and writing essays. You will already be a keen reader outside the classroom. English Literature at A-level has a depth and scope that is far beyond GCSE and even AS-level courses. As such, English A-level can be very challenging, but this means that it can also be deeply rewarding. During your A-level course, you will study a wide range of classic and contemporary prose, poetry and drama. You will be expected to articulate your ideas in class and on paper. English Literature works very well with almost any other subject, but particularly History, Philosophy, Religious Studies, Psychology and languages.
What Does the Course Aim to Do?
All English A-level courses aim to develop your ability to interpret and write about literary texts. The syllabus that we follow, AQA English Literature B, focuses on understanding texts through genre: for Paper 1, you will study a range of "tragic" texts; for Paper 2 you will look at a selection of pieces from the long tradition of political and social protest writing. The course also puts an emphasis on independent thinking, assessed through two 1,500 word coursework essays.
Course structure

Paper 1:

2 hours 30 minutes
Closed book
40% of A-level

Section A: one passage-based question on Othello (25 marks)
Section B: one essay question on Othello (25 marks)
Section C: one essay question on Miller and Keats (25 marks)

Texts:
William Shakespeare, Othello
Arthur Miller, Death of a Salesman
John Keats, Selected poetry

Paper 2: Texts and genres - Political and social protest writing


3 hours
Open book
40% of A-level

Section A: one question on an unseen passage (25 marks)
Section B: one essay question on one set text (25 marks)
Section C: one essay question which connects two set texts (25 marks)

Texts:
William Blake, Songs of Innocence and Experience
Margaret Atwood, The Handmaid's Tale
Jim Crace, Harvest
Non-exam assessment (coursework): Theory and independence
Two essays, one on prose and one on poetry (1500 words each).
20% of A-level
In the past, students have studied various texts for coursework, including:
Charlotte Bronte, Jane Eyre
Seamus Heaney, Death of a Naturalist
Oscar Wilde, The Picture of Dorian Gray
Tennessee Williams, Cat on a Hot Tin Roof
Nawal El Saadawi, Woman at Point Zero

What Skills Will You Develop?
English Literature helps you to develop a wide range of skills. For a start, you will develop your ability as an independent reader and thinker. The analytical skills that you will build in your study of literature will be applicable in many other fields. You will be doing a lot of writing, so you should expect to develop your ability to write clearly and articulately and to assemble complex arguments. The ability to write well is an advantage in every university course and in every workplace.
What Will You Find Challenging About The Course?
You should not underestimate the sheer volume of reading required for this course. The independent work required for the coursework element can be hugely rewarding, but it can also be very difficult, as, perhaps for the first time, you will be expected to develop you own arguments and interpretations about the books that you are reading. You will be expected to write long, detailed, carefully referenced essays - making this transition from GCSE and AS can be challenging for many students.
Structure of the Course
You will have 6x 1hour lessons per week. Homework will be set weekly and deadlines must be adhered to.