ACCOUNTING (AQA)
AS Course Outline
What is Accounting?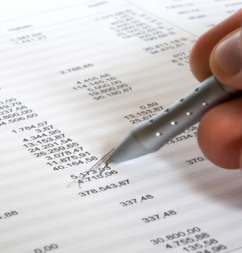 Accounting at AS level does not require any prior knowledge of the subject. What is required is an ease of working with numbers (only simple arithmetic involved) and a good memory for presentation layouts. Accounting is a highly structured subject but familiarity with specific layouts can soon be mastered to achieve exam success.
There is also a significant written element to the course where students will be expected to show insight into the benefits and limitations of various accounting techniques or offer advice and recommendations on appropriate action to be taken. Accounting is a business function concerned with the accurate generation, recording and presentation of a firm's on-going financial data. It is broadly divided into:
1. Financial Accounting: dealing with reporting on the profit position, cash position and financial worth of an organisation.
2. Management Accounting: dealing with decision-making and problem solving using precise data. This advises senior management on the relevant options to pursue.
In general all organisations (profit making and non-profit organisations), are required to report on their profit/income position over the course of a financial year. So as a business function it is absolutely fundamental to the smooth operation and financial health of a business. Businesses continually need to be aware of their costs, their expenditure, their profit, their liquidity position (i.e. cash strength/weakness) and their net worth. Accounting is the means by which this information is made available to the relevant decision-makers (i.e. Board of Directors).
What skills will students develop when studying Accounting ?
The study of Accounting will allow students to develop basic book-keeping skills in the first instance.
Data skills will undoubtedly be developed where students will be expected to manipulate data in a variety of forms.
AS Accounting has quite formalised layouts so students will develop their presentation skills.
Report writing is also an important feature of the syllabus and this requires specific writing skills to be developed presenting arguments and making judgements and justifying recommendations on the basis of available evidence.
Problem solving and decision-making skills, as well as interpretation skills pervade the entire syllabus.
Accounting (AQA) AS Specification
Unit 1

Written Paper

100% of AS level

3 hour exam
120 marks available

Available in May
Financial and Management Accounting

Section A
- 10 multiple choice questions and several short answer questions (25 marks)

Section B
- four structured questions - 3 questions worth 15 marks and 1 worth 10 marks (55 marks)

Section C
- two extended answer questions each worth 20 marks (40 marks)
Structure of the Course
This course will be taught for 5x 1hour lessons per week. Homework will be set each lesson as it is a subject learned through practical application and it is essential for effective learning that students put knowledge into practice immediately. This is vital also as learning Accounting is an incremental process and one lesson very much builds on the previous so speedy uptake of the subject material is beneficial for syllabus progression.
Core Textbook
AS Accounting for AQA
Osbourne Books
D Cox and M Fardon
Paperback
ISBN: 9781 905777 143