RELIGIOUS STUDIES (AQA)
GCSE Course Outline
What is Religious Studies?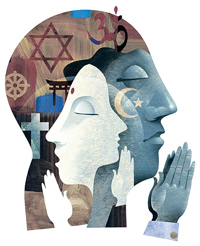 Religious Studies at GCSE is a subject which enables you to explore some of the fundamental questions in life, such as:
How do we know what is the right course of action in an ethical dilemma?
Does life have innate value and do we have the right to end it?
Do animals have rights?
Do we have a moral responsibility to protect the environment?
Do our current types of punishment fit the crime and what are the alternatives?
Aims of GCSE Religious Studies
This unit will provide students with the opportunity to:
Develop their knowledge, skills and understanding of religion by exploring the significance and impact of beliefs, teachings, sources, practices, ways of life and forms of expressing meaning;
Express their personal responses and informed insights on fundamental questions and issues about identity, belonging, meaning, purpose, truth, values and commitments.
Questions will be focussed on concepts and framed in an open-ended way that will allow candidates to answer with reference to the religions they have studied. The course allows for the study for a combination of Christianity and Hinduism.
The course will allow you to:
Courses based on this specification should encourage students to:
develop their knowledge and understanding of religious and non-religious beliefs, teachings and sources of wisdom and authority, including through their reading of key religious texts, other texts and scriptures of the religions they are studying
develop their ability to construct well-argued, well-informed, balanced and structured written arguments, demonstrating their depth and breadth of understanding of the subject
reflect on and develop their own values, belief, meaning, purpose, truth and their influence on human life
reflect on and develop their own values, beliefs and attitudes in the light of what they have learnt and contribute to their preparation for adult life in a pluralistic society and global community.
The course does not require or assume any prior knowledge in the area of Religious Education. It will suit anyone with an interest in philosophy, ethics and religion. You do not need a "faith" to enjoy this course - atheists are just as welcome as curious believers.
The AQA specifications for this course offer all candidates equal opportunities to demonstrate their attainment, regardless of gender, religion and ethnic and social background; they are accessible to candidates of any religious persuasion or none.
The course is taught over three lessons a week. Homework is set for every other lesson, and deadlines must be adhered to. You will experience a distinct advantage if you can articulate your thoughts in writing clearly and accurately.
RELIGIOUS STUDIES GCSE Course Specification
2 components - each component accounts for 50% of the total Full Course marks.
Written papers - 2 x 1 hour 45 minutes.
Each religion/theme has a common structure of two five-part questions of 1, 2, 4, 5 and 12 marks.
The question paper is worth 96 marks in total.
There are 5 additional marks on the paper spelling, punctuation and grammar.
Component 1: The study of religions: beliefs, teachings and practices
Christianity and Hinduism
Students should be aware that Hinduism is one of the diverse religious traditions and beliefs in Great Britain today and that the main religious tradition in Great Britain is Christianity. This knowledge may be applied throughout the assessment of the specified content.
Students will study the beliefs, teachings and practices of Christianity and Hinduism and will their basis in sources of wisdom and authority. They should be able to refer to scripture and/or sacred texts where appropriate. Some texts are prescribed for study in the content and questions may be set on them.
Areas of study:
Key beliefs
Worship and festivals
Ideas about the nature of God and existence
Belief about the nature of human life
Lifestyle
Religion and the wider community

Component 2: Thematic studies
Students will study a total of four themes:
Theme 1: Relationships and families
Theme 2: Religion and life
Theme 3: The existence of God and revelation
Theme 4: Religion, crime and punishment
The aim of this component is to enable candidates to address fundamental questions about the basis for religious beliefs and behaviour and to investigate ways in which religious beliefs and values are relevant to specified moral issues and behaviour.
This component is intended to encourage candidates to reflect upon religion and life including the right to life, contemporary family issues, gender equality, animal life and environmental issues, religious attitudes to the elderly and death, medical ethics, religious attitudes to crime and punishment, and attitudes to poverty.
In the examination candidates will be expected to illustrate their answers by reference to actual examples in relation to the issues raised, and to make appropriate references to religious stories, teachings and practices that they have studied.
Core Textbook
AQA GCSE (9-1) Religious Studies Specification A
Authors: Lesley Parry, Jan Hayes, and Sheila Butler
Publisher: Hodder Education
ISBN-13: 9781471866852