ART and DESIGN (PEARSON)
A Level Course Outline
'Art is the most intense mode of individualism that the world has known.' (Oscar Wilde)

Who Should Study A Level Art and Design?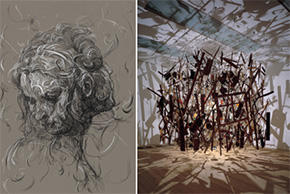 Are you curious about the world around you? Do you like to explore and record ideas visually? Do you have ideas and opinions that you want to communicate? Are you interested in researching and understanding a variety of artists?
Art students, who are curious about the visual world and have a genuine interest in developing their ability to engage with, respond to and analyse works of Art, will excel on the A Level course. You will also enjoy developing your skills in exploring a wide range of 2D and 3D materials and techniques.
What Topics Will I Study In the two year A-level Art and Design programme?
The full A-level course consists of two units. Unit 1: Personal Investigation (Art and Design Coursework) = 60%. Unit 2: Externally Set Assignment (ESA): (Exam project completed in set time and a 15 hour Exam) = 40%.
Unit 1: Personal Investigation = 60% (12% of which is for a 1000+ word Personal Study)
Unit 1 begins with a series of teacher-led workshops on a given theme to broaden and develop your skills, support generating ideas, create practical experiments, as well as developing your knowledge and understanding of artists and their work. This will enable you to create a body of independent work as you progress. The Personal Investigation enables you to research your own theme, which is suited to your interests, encouraging you to develop your practical making skills in more depth.
You will be encouraged to work independently, to develop ideas through sustained investigations and explorations of a range of techniques, materials and processes. You will identify and interpret relationships between visual ideas and analyse methods to progress your work and create informed outcomes. You will learn how to refine your work through in-depth study and manipulation of formal elements. You will be encouraged to explore relevant research and gain first-hand experience and critical awareness of works of art and design through regular gallery visits.
As your work develops and refines, you will write a 1000+ word Personal Study, which underpins the context of your Personal Investigation. This will support your practical work, demonstrate your written understanding of the formal elements, emphasis your research skills and knowledge of artists and ideas that inspire your art practice.
Unit 2: Externally Set Assignment (ESA) = 40%
A theme is set by the exam board, in the spring term, and will have approximately 10 school weeks to respond, producing a new body of practical work. The examination has a timed component - 15 hours, completed over a series of days, during which you are expected to produce an exceptionally well-refined finished piece of artwork.
What Challenges Will I Face In Art and Design?

You will continue to develop your skills of analysis and use of critical vocabulary in your personal study.
You will interpret the world as you see it and refine your visual language skills to develop a more personal voice.
You will develop the ability to assimilate research and your ideas, and match them effectively with appropriate materials and techniques to enhance meaning in your work and prompt further avenues of investigation.
You will create a portfolio of visual work, which you can use at interview to showcase your work at university interviews.

What Careers Can Art and Design Lead To?
There are multiple career paths to pursue within the creative industries. Fine Art, Architecture, Art Therapy, Animation, Illustration, Design for Textiles, Fashion, Product, Furniture, Ceramics, Graphics, Interiors, as well as set or costume design for Theatre, Television, Film, Photography and Advertising, plus Galleries, Museum and Heritage..
Structure of the Course
This course will be taught for 5x 1hour lessons per week in year 12 and 6x 1hour lessons per week in year 13, these lessons will usually be blocked as 2-3 hour slots. Homework will be set weekly and deadlines must be adhered to. Research and first-hand experience of works of art and design at galleries is essential.
Unit 1 Personal Investigation


Internally set, assessed by the teacher and externally moderated.
60% of the total qualification
Total marks available: 90

Overview of assessment


Part 1: Practical work (72 marks)

Students will have opportunity to generate practical work, ideas and research from primary, secondary and contextual sources, from a personal starting point. They will experiment with media and processes, and develop and refine their ideas, presenting their outcomes.
Students will submit sketchbooks/portfolio of practical and analytical responses, and outcomes demonstrating their artistic journey from their personal starting point.

Part 2: Personal study (18 marks)

Students submit a piece of continuous prose of a minimum of 1000 words, which contextually supports their practical work.

Unit 2 Externally Set Assignment


Externally-set exam theme
Sustained focus period of 15 hours of controlled assessment in which students create final response(s) to the theme.
40% of the total qualification
Total marks available: 72

Overview of assessment


Preparatory period, encouraging student independence in the development of ideas, intentions and response(s)

Preparatory studies will comprise a sketchbook/portfolio of practical and written development work based on the externally set theme.
During the 15-hour period of sustained focus under examination conditions, students will produce final outcome(s) extending from their preparatory studies in response to the externally set assignment.
The 15-hour period of sustained focus under examination conditions will take place over multiple sessions.
Work must cover all four assessment objectives.
Reference Prior and During Course
Thinking About Art, Penny Huntsman
ISBN:978-1-118-90497-8 Wiley Blackwell 2016
Ways of Seeing, John Berger
ISBN: 978-0-141-03579-6 Penguin 2008
The Drawing Book, Sarah Simblet
ISBN:1-4053-0630-0 Dorling Kindersley 2005
Introductory Summer Work
Pre course start: Visit an exhibition and write a shot review of one of your favourite artworks in the exhibition, analyse the use of materials, techniques and formal elements. Express your opinion about the work. Make your own visual response to the exhibition - you could explore a theme, idea, material and/or technique that inspired you at the exhibition.
Year 12 - Year 13: Complete the first draft of your essay and start making practical developments exploring your chosen personal investigation theme.