ULS/EPQ Programme
"Developing independent Learning skills"
University & Life Skills
Our unique University & Life Skills (ULS) programme consists of weekly lessons geared towards helping students to build self-confidence and develop a wide variety of skills. It incorporates the Extended Project Qualification (EPQ).
ULS is dedicated to students in their first year of A-Level study and key elements of the programme include:
Presentation & Debating Skills
CV writing & Work experience
UCAS workshops
Charity & Business projects
Guest speakers from universities
Guest speakers from industry (careers)
EPQ (optional)
What is an EPQ?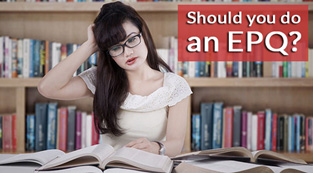 Most students in their first year of A-Level study opt to complete an EPQ alongside their AS-Levels. This qualification is an invaluable way of developing research and project management skills, essential for Higher education and the workplace. The Extended Project is a stand-alone qualification that is equivalent to an AS-Level, but with an A* also achievable. It is accredited by the OCR exam board.
Why choose the EPQ?
The Extended Project Qualification has enormous benefits to students:
It encourages students to think and perform independently, allowing them to manage a project from start to finish.
It gets them ready for university or employment, being designed to develop skills in decision making, problem solving, planning, researching and evaluating.
It can give them a competitive edge with university and employer applications.
It can increase confidence and time management.
How is the EPQ graded?
The EPQ is graded A* - E, with an A grade equating to 28 UCAS points.
Students work with a teacher to produce an outcome that can take a variety of formats. They can:
Write a dissertation/investigation/report
Create an artefact or design
Organise an event
Put on a performance of some kind.
Students are assessed by their teachers across a range of skills, which are the same regardless of the type of project undertaken.
Benefits
My EPQ was talked about at interview. It led to a lower offer (one grade was reduced from an A to a B) from Southampton and Sheffield universities.
Matthew Collins, Student
"We welcome the introduction of the Extended Project (EPQ) and would encourage students to take one as it helps them to develop independent study and research skills and ease the transition from school/college to higher education."
Cambridge University Admissions
Work Experience
"Developing the independent, self-confident learner"
Work experience is a key component of our University & Life Skills programme and all students in the Lower Sixth are encouraged and aided in the process of gaining useful work experience.
For some career choices and degree courses, such as Medicine, Dentistry, Law, Veterinary Medicine, this is essential. But, more and more, we find that universities are looking to see that students have developed some of the valuable skills which can only be gained through a work experience placement - whether it be directly related to their degree course or not.
Students are taught how to compile a CV, write a covering letter and how to prepare for job interviews. They are positively encouraged to develop the interpersonal skills so crucial in today's working environment, often lost on those young people who interact almost solely through social media.
Albemarle has developed contacts with an extensive network of professionals working in Law, Finance, the Health Service, the Media and Engineering. We are therefore able to make use of this network to secure work placements for many of our students. Very often parents and guardians of current and ex-students also offer placements for our students. The ULS team at Albemarle liaises with the University of London colleges who offer Taster Courses for students seeking to enter professions like Medicine, Dentistry, Law, Pharmacy and Physiotherapy.
Students are also able to benefit from advice given to them by their Curriculum Manager.
"Work experience is vital to students achieving places on the more competitive degree courses."
Tauhida Raqib
One-year A-Level Group Coordinator