BIOLOGY (OCR)
A Level Course Outline
Why study Biology A level?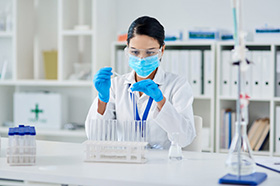 Biology is the study of life and living processes. It is the science that, as human beings, we can relate to the most, because much of what there is to learn relates directly to us.
The second year of the course builds on the important foundations which were taught during the first year of study. Many more connections will be laid out between topics as the course unfolds, and making these connections will be very satisfying.
It is 50 years since the structure of DNA was deciphered by Watson, Crick and Franklin. This discovery led to an explosion in our understanding of what makes life tick.
Many new technologies have arisen directly from their work, for example: DNA fingerprinting and mapping the genome; genetic testing; cloning; genetic manipulation and stem cell technologies. We are only now just beginning to unravel the potentials these will provide for humanity.
The course represents the first serious attempt to incorporate this new knowledge into A-level. It also aims to give students more of an insight into the mechanisms of scientific research (the so called 'How Science Works' element), as well as an understanding of the knowledge and principles.
Together they form an excellent preparation for further study of the Biosciences at university level. With all of this discovery, there has never been a more exciting time to study Biology.
What are the challenging aspects of the course?
Learning the technical vocabulary
Appreciating how scientists use statistics to analyse their data
Biology (OCR)
A-level Specification

Content Overview

Assessment Overview

Content is split into six teaching modules:

Module 1 - Development of Practical skills

Module 2 - Foundations in Biology

Module 3 - Exchange and Transport

Module 4 - Biodiversity, evolution and disease

Module 5 - Communication, homeostasis, and energy

Module 6 - Genetics, evolution and ecosystems

*Contribution to overall A-level grade.

Component 01 Biological processes
2 hour 15 min
Component 01 assesses content from modules 1,2,3 and 5

37%*

Components 01, 02 and 03 assessed in summer of second year


Component 02 Biological diversity
2 hour 15 min
Component 02 assesses content from modules 1, 2, 4 and 6

37%*

Component 03 Unified Biology
1 hour 30 min
Component 03 assesses content from ALL modules (1-6)


26%*

Component 04 Practical endorsement
(Not exam assessed)

Evidence of practical skill collected over the two years
Structure of the Course
This course will be taught for 6x 1hour lessons per week. Homework is set weekly. Lessons will be a mixture of theory and practical. Mock exams take place each month, in addition to formative weekly tests. Reading around a variety of journals such as New Scientist or Nature and good quality broadsheet newspapers is essential.
Core Textbook

A-level Biology A for OCR Student Book (Science A-level for OCR) by Ann Fullick Paperback Oxford University Press ISBN-13: 978-0198351924
Further Reading
Blueprint: How DNA Makes Us Who We Are
By Robert Plomin
ISBN: 978-0241282076
For students with a particular interested in the link between genetics and psychology.
Half-Earth: Our Planet's Fight for Life By Edward O. Wilson
ISBN: 978-1631492525
For students particularly interested in biodiversity, ecology, climate change, broader environmental issues and conservation biology.
This is Going to Hurt: Secret Diaries of a Junior Doctor By Adam kay
ISBN-13: 978-1509858637
Essential reading for studets considering a career path in medicine.
The Serengeti Rules - The quest to discover how life works and why it matters by Sean B Carroll ISBN-13: 978-0-691-16742-B
This is a very useful resource for giving a holistic view of the main themes students study in A Level