COMPUTER SCIENCE (OCR)
A Level Course Outline
What is A Level Computer Science?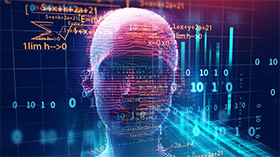 Computer Science encompasses the theoretical aspects of how a computer is designed, used and applied to solve real world problems. It is an applied subject that provides the student with practical problem solving skills in a variety of programming language. It provides a strong foundation for students who wish to enter a career in Computer Science as Programmers, Data Analysts, Cyber Security Consultants, Wed Designers, Games Developers or Electronic Engineers. It is aimed at students who see themselves as developing their own computer software and hardware.
What Skills Will Students Develop When Studying Computer Science?
Computer Science students will develop the ability to:-
use technical language appropriately;
apply skills in logic to solve problems; and
increase their awareness of existing and emerging technologies and the impact they have on society, organisations and individuals.

What Will Students Encounter in A-level Computer Science?
There is a substantial coursework element in Computer Science which requires students to create a complete piece of bespoke software to solve a real-life problem. The project is divided into five stages: Analysis, Design, Implementation, Testing and Evaluation. Students must be able to plan their time effectively throughout the course in order to meet the project deadlines. Consequently, the Computer Science course is only suited to students who can work consistently and independently, week by week.
The theoretical components include more advanced knowledge, understanding and application of data handling, file handling, computer architecture and number representation. A command of more sophisticated terminology is expected, along with more advanced programming techniques including recursion, object-oriented programming and more complex algorithms.
COMPUTER SCIENCE (OCR) A Level Specification

Component One 2 hour 30 minutes written exam
40% of A-level

Available in May / June

Computer Symptoms


The characteristics of contemporary processors, input, output and storage devices
Software and software development
Exchanging data
Data types, data structures and algorithms
Legal, moral, ethical and cultural issues

Component Two 2 hour 30 minutes written exam
40% of A-level

Available in May / June

Algorithms and Programming


Elements of computational thinking
Problem solving and programming
Algorithms

Programming Project
20% of A-level

Available in May / June

Students will choose a computing problem to work through according to the guidance in the specification. Broadly speaking, the report will cover these broad areas:-

Analysis of the problem
Design of the solution
Developing the solution
Testing the solution
Evaluation
Structure of the Course
This course will be taught for 6 x 1-hour lessons per week. Homework will be set weekly and deadlines must be adhered to. Reading of textbooks is essential.
Core textbook
OCR AS and A-level Computer Science - PM Heathcote and RSU Heathcote
ISBN: 978-1-910523-05-6
Further Reading
Essential algorithms for A Level Computer Science
Hillyard, D and Sargent, C
ISBN: 978-1-7943594-2-0