RELIGIOUS STUDIES (EDUQAS)
A-Level Course Outline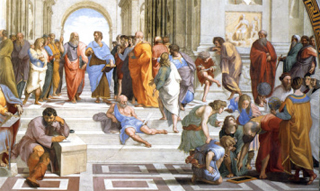 What is Religious Studies?
Religious Studies at A Level aims to equip the students with an ability to investigate some fundamental questions about human life and belief, such as
Can we explain the presence of evil and suffering?
Can we demonstrate the existence of God?
How do we make ethical decisions?
Does life have intrinsic value and are we ever allowed to end it deliberately?
We also look at a chosen religion, Christianity, and investigate its views on God, self, death and the afterlife and sources of wisdom and authority.
Students gain critical and evaluative skills sought by higher education and employers - particularly in law, education, social work, politics, medicine, administration and the media. Religious studies is a thought provoking subject and our contemporary themes will help you inspire engaging classroom discussion.
The course is composed of three components all examined in June by means of essay questions. There is no coursework. Several lessons are dedicated exclusively to exam practice and the students are guided through past papers in order to develop a useful method for answering exam questions. These test the critical and evaluative ability of students, as well as their knowledge and understanding of the topics.
The study of the subject is divided between Study of Religion, Philosophy of Religion and Religion and Ethics. The Study of Religion component deals with and consists of four themes with Christianity: religious figures and sacred texts; religious concepts; religious life; and religious practices.
The Philosophy of Religion module deals with arguments for the existence of God; challenges to religious belief - the problem of evil and suffering; and concepts surrounding religious experience. It examines various attempts to demonstrate the existence of God and challenges to it such as the problem of evil and evolution and goes on to consider the nature of religious experience.
The Religion and Ethics module looks at ethical language; Aquinas' Natural Law; Fletcher's Situation Ethics and Utilitarianism. The module has a theoretical and a practical aspect: key moral principles are considered and then applied to practical issues such as abortion, euthanasia, homosexuality, animal experimentation and nuclear weapons as a deterrent.
Courses based on this specification should encourage students to:

develop their interest in a rigorous study of religion and belief and relate it to the wider world
develop knowledge and understanding appropriate to a specialist study of religion
develop an understanding and appreciation of religious thought and its contribution to individuals, communities and societies
adopt an enquiring, critical and reflective approach to the study of religion
reflect on and develop their own values, opinions and attitudes in light of their study.

Is Religious Studies for me?
This course will suit anyone with an interest in philosophy, ethics and religion. This is not the same as 'faith': atheists who enjoy arguing about metaphysics are just as welcome as curious believers. We treat Religious Studies as a philosophical subject. Christianity is the default religion for the course, but the majority of issues are applicable to any religion or none. The subject provides a good intellectual challenge for students of humanities and is a sound balancing factor in a wholly scientific curriculum. The study of Ethics is especially useful for students of Medicine, as a foundation for Medical Ethics.
RELIGIOUS STUDIES (Eduqas)
AS Specification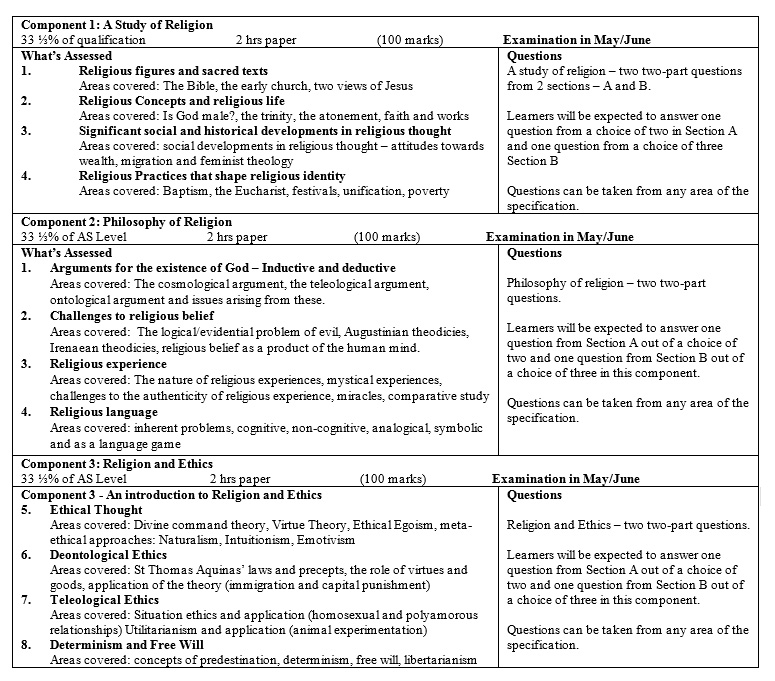 Structure of the course
This course will be taught for 6x 1hour lessons per week. Homework is set for every other lesson and deadlines must be adhered to. Furthermore, it is essential that the set texts are read and comprehensive notes are taken from them, so as to aid revision.
Suggested Reading
WJEC/Eduqas Religious Studies for A Level Year 1 & AS - Philosophy of Religion and Religion and Ethics
Richard Gray and Karl Lawson
Illuminate Publishing
ISBN10 190868299X