BUSINESS AS (AQA)
Course Outline
Why AS Business?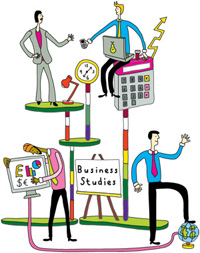 If you select Business as one of your options you will learn how entrepreneurs such as Richard Branson and Steve Jobs have developed successful innovative ideas into real life businesses. Also, you will learn how firms such as House of Fraser and British Airways have survived the recession.
The Business AS course brings learning to life through the creation of your own individual ideas when thinking about setting up a small business and applying business concepts and models to real life commercial organisations.
What is Business?
Business can be very simply defined as the philosophy of managing, leading and key decision making of the four core functions of any commercial organisation; Marketing, Accounting, Finance, Human Resources and Operations. Within Marketing Management, you will learn the importance of market research and how it's conducted. Various strategies are then looked at before deciding on an integrated marketing mix of product, price, place and promotion.
The Accounting and Finance Management sections look at the various financial tools and how to use them successfully to manage a firm's cash flow. The Human Resources Management element covers how to motivate the workforce to produce greater productivity and quality of work. It also deals with how organisations are structured and how they recruit, train and organise their employees. Operations Management focuses on the importance of using all the resources efficiently. It considers stock control, quality control and the concept of continuous improvement to give a company a competitive edge over its competitors.
What skills will students develop when studying Business?

Business enables you to understand how a business works and what motivates entrepreneurs to succeed.
Calculation skills, vital for any up and coming entrepreneur, such as calculating profit, market share and unit cost.
You will develop problem-solving skills by applying your knowledge to real life case studies.
Through the practice of mock examinations you will also learn how to assimilate information and present it in a clear and concise way.
BUSINESS AS (AQA) Course Specification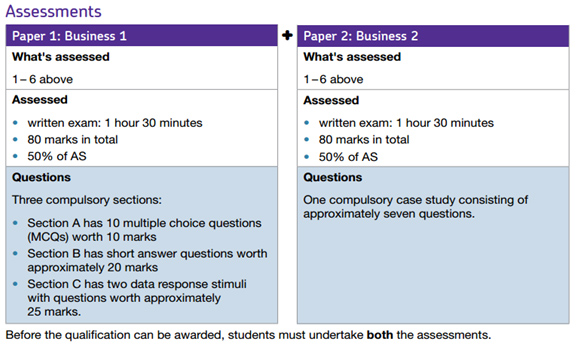 Note: Assessment is 100% examinations based, therefore there is no course work.
What Content will I be assessed on?
Students of this course should study business in a variety of contexts (e.g. small, UK focused/ global, service/manufacturing) and consider:
1. What is Business?
2. Managers, leadership and decision making
3. Decision making to improve marketing performance
4. Decision making to improve operational performance
5. Decision making to improve financial and human resource performance
This course will be taught 5x 1 hour lessons per week. Independent study will be expected to be completed weekly and any set deadlines must be adhered to. Reading of textbooks, online journals, researching local and global businesses and following coverage in the news is essential.
Core Textbook

AQA A Level Business 1 Third Edition (Wolinski & Coates) Paperback - John Wolinski (Author), Gwen Coates (Author) ISBN-10: 1471836096

Further Reading

Lester D. "Starting Your Own Business", Crimson Publishing.
ISBN 9781854584014.

Balanko-Dickson G. "Writing an Effective Business Plan", McGraw Hill.
ISBN 9780071467513