GEOGRAPHY A (PEARSON)
AS Level Course Outline
"Geography is about more than just memorizing places on a map. It's about understanding the complexity of our world, appreciating diversity of cultures and in the end, it's about using that knowledge to bridge divides and bring people together." Barrack Obama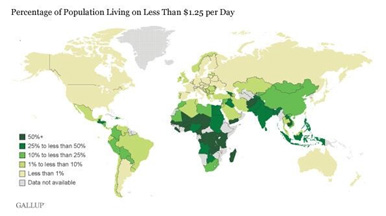 What will I study in Geography?
In geography, you will investigate the links between people and their environment on both local and international scales and connect diverse issues in politics, economics and science to the landscape to give an understanding of how places are shaped.
Your geography course will cover both physical and human environments. It will show how human intervention affects the environment and how people adapt and mitigate the effects on their environment.
You will learn in a variety of ways, using maps, GIS skills, data analysis, photos, and videos. You will be encouraged to discuss ideas and frame your own questions using higher level thinking skills and show your grasp of complex issues through report and essay writing. Fieldwork will is an essential part of your A Level course. You will even get to go on a residential trip to Portugal to experience a different environment to the one where you live.
What Careers Can Geography Lead To?
Geography is a broad based subject which provides lots of opportunities. It is an obvious choice for careers in sustainability and green issues. However, it has a much wider reach and is applicable to careers in business, politics and economics through an understanding of global economics. Law and human rights, as geography gives you the opportunity to consider relevant issues such as migration. As well as science as geography gives you the breadth that universities seek, as well as enhancing your skills of writing essays and investigation.
Geography is highly valued by universities as an A Level choice. The Russell Group named geography as one of the eight facilitating subjects. The Guardian has also identified geography as the 'must-have A Level'.
GEOGRAPHY A (PEARSON) Summary of Content at AS Level
Physical Geography
Coastal Landscapes including geological structure and landforms found at the coast. Students investigate contemporary issues such as climate change and how this will affect coasts and coastal communities and what can be done to adapt and mitigate to change at the coast. As part of this topic students are required to attend fieldwork to investigate changing coastal sediments, changing coastal profiles and success of coastal management.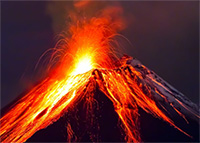 Tectonic Hazards looks at earthquakes, volcanic eruptions and secondary hazards such as tsunamis and how these represent a significant risk in some parts of the world particularly where active plate boundaries interact with high population density and low levels of development, resulting in major disasters. Students will gain an in-depth understanding of the causes of tectonic hazards in order to be able to evaluate responses.
Human Geography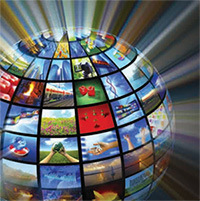 Globalisation is a current issue around the world and continues to accelerate, resulting in changing opportunities for businesses and people. Students look at inequalities caused within and between countries as shifts in patterns of wealth occur. As well as cultural impacts on different communities and how these increase as flows of ideas, people and goods take place. Students will learn to recognise that both tensions in communities and pressures on environments are likely, outcomes in an increasingly globalised world.
Regeneration looks at how local places vary economically and socially with change driven by local, national and global processes. These processes make some places dynamic while other places appear to be marginalised creating economic and social inequalities both between and within local areas. Students will investigate urban and rural regeneration programmes involving a range of players with different interests and views of success. Students are also required to carry out fieldwork investigations covering: evidence of regeneration, public opinion on local regeneration and historical change.
What skills do I need for geography?
You will need an open and inquiring mind in order to make balanced and reasoned responses in essay and debates. Having a good pass in GCSE mathematics is also advantageous in order to work out statistical problems and apply your knowledge to field work data.
Course Textbook
Geography for Edexcel A Level Year 1 and AS Student Book ISBN: 978-0-19-836645-4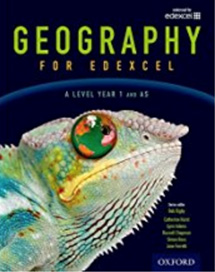 Further Reading
A subscription to the Geography Review magazine is recommended as well as taking an interest in current affairs through regular reading of broadsheet newspapers, the Economist and New Scientist magazines. This will also help build case studies and wider knowledge. Tim Marshall's book Prisoners of geography also provides a good overview of geopolitics.