PSYCHOLOGY (AQA)
AS Course Outline
What Is Psychology?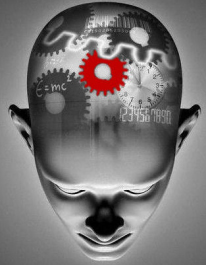 Psychology strives to understand why people behave and think in certain ways, examining all aspects and stages of life. If you are interested in such issues as why people are independent or obedient, how early experiences in childhood may affect you as an adult, how memory works, what leads people to become mentally ill, and many more, then Psychology is the ideal choice.
Who should study AS Psychology?
Psychology at AS does not require previous GCSE experience of the subject. It will be suited to students who have an interest in both human behaviour and the workings of the mind. Psychology has the advantage of both being considered a science subject but also as having immediate appeal for those who are more inclined towards subjects such as English Literature, History and Modern Languages.
What topics will I study in AS Psychology?
At AS, students will develop a broad knowledge and understanding of the core areas of psychology through a range of topics, chosen for their accessibility and popularity. These include memory, infant attachment, social influence and psychopathology. Students will also learn how psychology functions as a science and how best to design studies in order to test explanations of behaviour.
What Skills Will Students Develop When Studying Psychology?
Students will learn how to express themselves in both concise and more discursive ways and will develop evaluative skills that will be essential for their future academic success. Students will also apply numeracy skills as 10% of marks in assessments will require the use of mathematical skills gained at GCSE Higher level.
What careers can Psychology lead to?
Psychology is incredibly popular at A level and can lead to careers in human health, social work, education, retail/administration, legal, social, and welfare professions, business, HR, finance, marketing, PR, and sales.
PSYCHOLOGY (AQA) Summary of Content at AS
Course content
Introductory topics in Psychology:
Social influence including questions such as: Would you ever blindly obey an order to commit a harmful act?
Memory including questions such as: Do we really forget things we have learned?
Attachment including questions such as: Are we still largely the same person we were as a two-year old?
Psychology in context:
Approaches including questions such as: Were you born with your personality or have you developed it through experience?
Psychopathology including questions such as: How might phobias, depression, OCD best be treated?
Research methods including questions such as: What is the most objective way of finding out what someone is thinking?
Structure of the Course
This course will be taught for 5x 1 hour lessons per week. Homework will be set on a regular basis and investigations will be conducted as often as possible. Students will receive both class and revision notes that cover the entire course.
Introductory Reading
The Man Who Mistook His Wife for a Hat, Oliver Sacks, Picador, ISBN: 978-0330523622
Opening Skinners Box, Laurent Slater, W.W. Norton & Co. ISBN: 9780393326550
British Psychological Society's research digest, https://digest.bps.org.uk/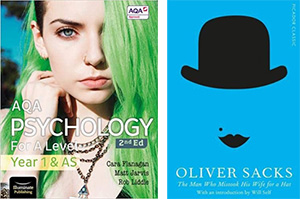 Useful text
AQA Psychology for A-level Year 1 & AS, Flanagan et al. ISBN: 978-1912820429
Further Reading
Thinking Fast and Slow, Daniel Kahneman, Penguin ISBN: 978-0141033570