SOCIOLOGY (WJEC Eduqas)
AS Course Outline
"Sociology is the art of examining society as if it were a glass onion. The layers are peeled to reveal the true society we live in."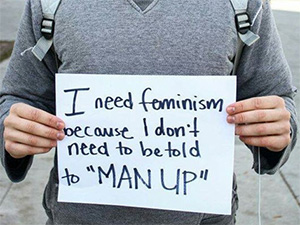 Who Should Study AS Sociology?
Sociology suits students who question the nature of everything in society. As we grow up, we are told by others how society is organised.
Sociology reveals these 'truths' as assumptions. Sociology is the tool we need to give us a more well-rounded understanding to unearth the way society has been really created.
What Topics and Questions Will I Study In AS Sociology?
You will analyse how people are socialised into society. We explore the role of the family and the education system and how it affects us. We also look at the impact of culture on how we are socialised, such as 'what is Britishness'? We debate the nature of art in society, asking the question 'what counts as art'? We look at how sociologists collect their evidence in research methods too.
What Challenges Will I Face In AS Sociology?
You will develop the skill to write academic essays. You will be given a very supportive environment where you will learn how to write essays successfully. There will be plenty of practice available to achieve your best!
You will learn to evaluate and relate your points back to the title. We will provide you every help you need to feel comfortable and confident for the exam.
You will argue using sociological theories, such as Functionalism, Marxism, different types of Feminism, Post Modernism and Interactionism. You will be encouraged to frame your essays with ideas from these sociologists.
You will discover how sociologists gather their information using research methods. Sometimes you will be put in the position of the sociologist and asked to identify problems faced in collecting data.
What Careers Can Sociology Lead To?
Sociology is highly respected by employers and can help towards these careers:
Lawyer
Business Management
Public Sector Management
Charity Management
Psychologist
Policy Advisor
Marketing
Public Relations
Human Resources
Diplomacy
Politician
Journalist
Teacher
Social Worker
SOCIOLOGY (EDUQAS) Summary of Content at AS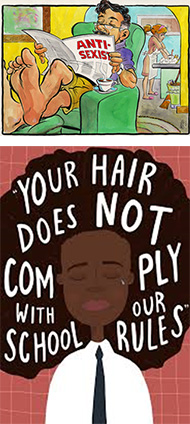 Family & Households - we discuss
What type of family is the most common in the UK?
Is marriage necessary?
Do we all have a childhood?
Are women exploited in the family?
Why has the UK been so affected by Covid-19?
In Education - we discuss
Have reforms to the education system helped students to pass their exams?
Do girls have a disadvantage in the education system?
Is the education system biased against ethnic minority groups?
Do teachers label their students?
Why do so many children on free school meals fails their exams?
What Skills Do I Need for AS Sociology?
You will need:
A good English GCSE grade (6 or higher) to write essays
A questioning mind which is curious about why society exists and what is happening in society
An ability to construct an argument
A willingness to debate the theories and ideas in lessons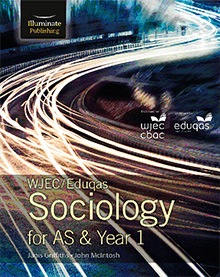 Course Textbook

WJEC/EDUQAS Sociology for AS and Year 1 ISBN 978-1-908682-74-1
Introductory Reading
One of the issues we study is how multi-national corporations, like Disney, treat children around the world. Disney had a reputation for being a child-friendly company. However in Sociology we look at how companies like Disney treat children in less developed countries, where they are employed as young as 14 to work beyond the legal maximum of 36 hours per month.
Research this article from The Guardian and create a poster of how Disney employees are treated in China.
Further Reading
Housewife Anne Oakley ISBN 9780140135237
No Logo Naomi Klein ISBN 9780006530404