SOCIOLOGY (WJEC Eduqas)
AS Course Outline
"Sociology is the art of examining society as if it were a glass onion. The layers are peeled to reveal the true society we live in."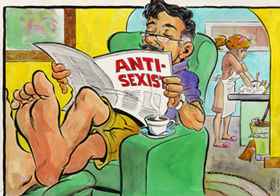 Who Should Study AS Sociology?
Sociology suits students who question the nature of everything in society. As we grow up, we are told by others how society is organised. Sociology reveals these 'truths' as assumptions. Sociology is the tool we need to give us genuine 20/20 vision to unearth the way society has been really created.
What Topics and Questions Will I Study In AS Sociology?
You will analyse how people are socialised into society. In Component 1 we explore the role of the family and how it affects us. Are families always beneficial to the individual? Are children raised well by one parent or by two parents? Does it matter if children are raised in gay families? Is childhood a special and protected time of life? Is housework shared between couples?
In Component 2 (Research Methods in Sociology) will be examined and you will investigate social phenomena within the college.
What Challenges Will I Face In AS Sociology?

You will develop the skill to write timed essays. You will be given a very supportive environment where you will learn how to write essays successfully. There will be plenty of practice available to achieve your best!
You will learn to evaluate and relate your points back to the title. We will provide you every help you need to feel comfortable and confident for the exam.
You will evaluate using Sociological Theories, such as Functionalism, Marxism, Feminism, Post Modernism and Interactionism. You will be encouraged to frame your essays with ideas from these sociologists.
You will discover how sociologists gather their information using research methods. Sometimes you will be put in the position of the sociologist and asked to identify problems faced in collecting data.
What Careers Can Sociology Lead To?
Sociology is highly respected by employers and can help towards these careers:
Lawyer
Business Management
Public Sector Management
Charity Management
Psychologist
Policy Advisor
Marketing
Public Relations
Human Resources
Diplomacy
Politician
Journalist
Teacher
Social Worker
SOCIOLOGY (Eduqas) AS Specification

Component One
120 Minutes
120 Marks
70% of AS Exam

Available in May

Socialisation and Culture

Section A - 15 marks
One structured question on the theme of socialisation, culture and identity.

Section B - 50 marks
families and households
Each option includes a compulsory question and a choice between two essay questions.

Section C - 55 marks
education
Each option includes a compulsory question.

Component Two
75 Minutes
50 Marks
30% of AS Exam


Available in May

Methods of Sociological Enquiry

One Compulsory Question.
This will be based on stimulus material that will be a synopsis of sociological research.
Structure of the Course
This course will be taught for 5x 1hour lessons per week. Homework will be set weekly and deadlines must be adhered to. Reading of textbooks and sociological coverage in broadsheet newspapers is essential.
Course Textbook
WJEC/EDUQAS Sociology for AS and Year 1 ISBN 978-1-908682-74-1
Introductory Summer Reading
One of the issues we study in Unit 1 is how multi-national corporations, like Disney, treat children around the world. Disney had a reputation for being a child-friendly company. However in Sociology we look at how companies like Disney treat children in less developed countries, where they are employed as young as 14 to work beyond the legal maximum of 36 hours per month.
Research this article from The Guardian (27.08.11) and create a poster of how Disney employees are treated in China.
www.guardian.co.uk/law/2011/ aug/27/disney-factory-sweatshop -suicide-claims?INTCMP=SRCH
Further Reading
Housewife Anne Oakley ISBN 9780140135237
No Logo Naomi Klein ISBN 9780006530404